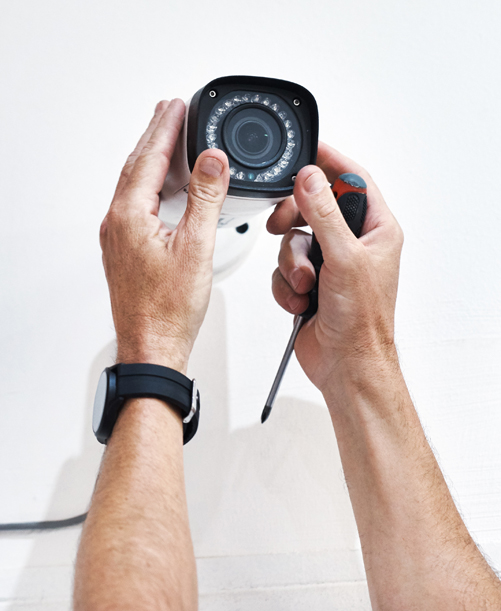 Home Security Camera Installation in Austin, Tx
From security camera installation to repairs, upgrade and maintenance, our technicians are proficient in providing your home with a smart and advanced surveillance system that will allow you to track all the activities from anywhere, anytime. From the best cameras with the most advanced options to the best platforms, we promise you the most seamless experience when it comes to viewing and controlling your home security from anywhere in the world. We have years of experience in providing homeowners better ways to strengthen their home security, and we use latest technology so that what you see on your phone or tablet is relevant, reliable and crystal clear.
While high quality deadbolt locks are undoubtedly your first line of defence against home intrusion, there are many other simple and cost-effective strategies that will make a huge difference in improving the security of your home, and installing a security camera is one of them. If you are looking for home security installation in Austin, Tx, TXP Locksmith is the name you can trust. We not only provide end to end locksmith solutions for your home but also specialise in installing and repairing security systems such as security cameras and video doorbell.
Security Camera Options & Features
Indoor or outdoor security cameras
Infrared (IR) night vision camera
CCTV surveillance systems
Video doorbell camera
Digital peephole
Dome cameras
Live video surveillance systems
Motion detectionand image sensors
Full range of locksmith services
Fast response and same day service
Licensed, insured & bonded technicians
Trainings for employees
Written estimates
Need a trustworthy locksmith for residential, commercial and automotive services?
Welcome to TXP Locksmith. Your one-stop-shop for lost keys, damaged
locks and broken remotes.
Benefits of installing our home
security camera?
The mere presence of a security camera on the home exterior acts as powerful crime deterrent. Knowing that their activities are getting monitored and recorded can be unnerving for trouble makers and burglars, leaving them less confident about attacking your house. Here are some key benefits of home security camera installation in Austin, for homeowners.
Viewing through a single app
Round the clock monitoring
Access to live and recorded videos
Provides instant alerts
Two-way audio from anywhere
1080p HD video
Relevant notifications