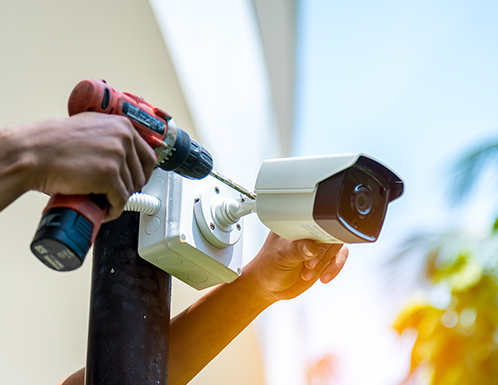 Home Security Camera Installation in Waco, Texas
Installing a security camera is one of the best ways to reinforce your home security and to make sure that your family, property and valuable belongings are protected at all times. And with our home security camera installation Waco, we can make sure you have this peace of mind. We bring to you the best security cameras available which help you to watch over your home and loved ones from anywhere, anytime. There are different types of home security cameras, and our technicians will guide you in choosing the right one that is in perfect agreement with your budget and security needs. We also offer professional advice on modern security solutions you can install to ensure that your house has as much protection as possible.
Our Security Camera Offerings in Waco, Texas
We offer a wide range of home security cameras that you can choose from – indoor and outdoor cameras, wired and wireless security cameras, video doorbell cameras, motion detector cameras and dome cameras. We have a strong team of experienced professionals who will ensure that your cameras are installed in the right spots and corners, so you get the best footage and coverage.
Whether it is installing CCTV, hidden cameras, outdoor security cameras that has weather-resistant features or indoor wireless- technology based security cameras that can not only record but send you a live streaming video to your smart phone or smart device, TXP Locksmith is the company you can trust for best quality home security camera installation in Waco, Texas.
Full range of locksmith services
Fast response and same day service
Licensed, insured & bonded technicians
Trainings for employees
Written estimates
Need a trustworthy locksmith for residential, commercial and automotive services?
Welcome to TXP Locksmith. Your one-stop-shop for lost keys, damaged
locks and broken remotes.
Why should you get a
security camera

for your home?

Let's look at some of the scenarios. You are a working couple and need to leave your kids either alone in the afternoon or with a babysitter. You are out at work in the day and have elderly family members who are under the supervision of a caretaker. You travel a lot. You keep valuables at home or have expensive gadgets lying around. By installing a high-quality security camera, it becomes easier for you to keep an eye on your kids, pets, courier packages and property while you are away.