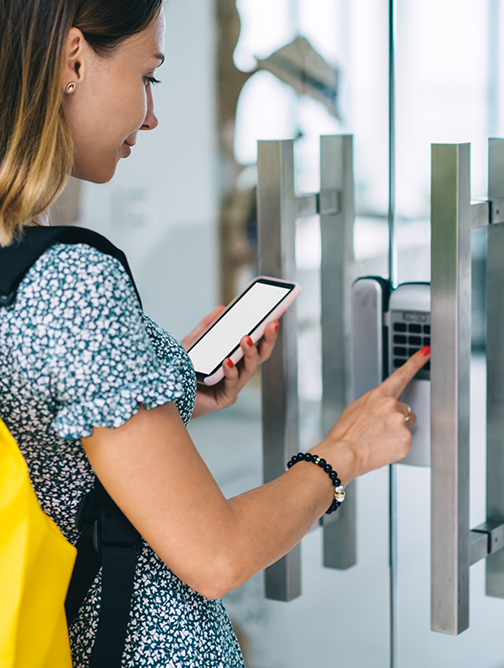 Access Control System Installation in Dallas
As a business owner, you need a scalable and secure system to control every point of access to your facility. With our highly customized and scalable access control system installation in Dallas, we help businesses achieve full control over the access and security of their business. TXP Locksmith is one of the fastest-growing commercial access control system installers in Dallas and the surrounding areas. From on-premise to web-based solutions, we always prioritize your requirements and security. Whether you are managing a small office in Dallas or a huge industrial complex, our access control systems make it possible to regulate access and movement through out the premises. Since all our technicians are insured and licensed, they will install the access control systems quickly, safely, and efficiently to bring the security of your office, building, or facility to a new level. Today, businesses are relying more than ever on latest electronic and digital access control solutions that promise more security and more convenience than traditional locks. If you are still dependent on physical locks and keys to secure your commercial set-up, it's time to move to modern access control systems. Since these systems let you set up a new user account quickly and facilitate easy scaling up, you won't need to make a key every time a new user needs to be given access.
Our Access Control Solutions in Dallas
Keycard & key fob systems
Biometric access control
Proximity access control
Parking barriers and electronic gates
Commercial gate operators
Perimeter controls &sensors
Wireless/Electronic/IP-Based Access Control Systems
Panic bars
RFID card readers
Magnetic door locks
Full range of locksmith services
Fast response and same day service
Licensed, insured & bonded technicians
Trainings for employees
Written estimates
Need a trustworthy locksmith for residential, commercial and automotive services?
Welcome to TXP Locksmith. Your one-stop-shop for lost keys, damaged
locks and broken remotes.
Scalable and customized solutions to
manage access
Having significant experience in protecting commercial buildings with sophisticated access control system installation in Dallas, we can also offer recommendations on how to optimally place these systems. Implementing these recommendations will give your facility managers and users the correct blend of flexibility, convenience and security.
With an efficient access control management system, you can also keep track of who has access to which areas. This helps to revoke and extend someone's access as and when necessary. With access control systems, tracking your employees and visitors becomes easier because every access code entered or keycard swiped is recorded in the systems log. Exercising more control on who gets access to which areas is also made easier and hassle-free with the installation of modern access control systems. Contact TXP Locksmith today to know about learn how installing the right access control solution will provide you with added security, convenience, and invaluable insights.